Qualifications
Certified MPM Rapid Transformational Therapist


Official Certification as Hypnotherapist, awarded by Marisa Peer.
I have personally trained with internationally renowned MPP founder Marisa Peer, and attend her ongoing monthly Masterclasses.
Certified EFT Practitioner


Official EFT Academic Certification I and II, awarded by Gary Craig.
I am one of the few practitioners in Europe to have been awarded Gary Craig's Intermediate-level Cert-II certification.
EFT Certification from UK Masters Sue Beer and Emma Roberts at the EFT Centre in London: Practitioner Certificates, Levels 1, 2, and 3. Trainers' Trainer Certificate, 2007.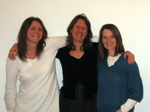 EFT Training
I have undertaken numerous training course internationally over the last decade, in London, Brussels, Florence, Ilkley and Manchester. I have studied and trained with many of the EFT Masters, including Carol Look, Gwyneth Moss, and Dr Pat Carrington, as well as with the incomparable Steve Wells and David Lake from Australia (provocative energy techniques). At the Healing High-Rise energy psychology workshop in Brussels, I was privileged to attend sessions by a stellar international roster of presenters including: Tapas Fleming (Tapas Acupuncture Technique), Sandi Radomski (excellent work on allergies, and pioneer of the very helpful "Ask and Receive"), Larry Nims ("Be Set Free Fast"), Willem Lammers (Logosynthesis) from the Netherlands, David Berceli (TRE: Tension/Trauma Release) and John Diepold (HAT, or Heart Assisted Therapy). At the various EFT Masterclasses
Education
I graduated from King's College Cambridge, England, with a BA and and an MA  in Modern and Medieval Languages (French, Italian and Russian).
Cultural Background
Half American and half British, I grew up in Egypt, Tunisia, Belgium and Laos, thanks to the British Diplomatic Service. Most of my education was in the French Lycée system, followed by a spell at a Bedales school in the U.K. I've  lived and worked in London, Berkeley, California, and Washington DC.
I was based for many years in Zurich, Switzerland, where our family home still is.  I am now primarily based in London, on my houseboat in Canary Wharf. My husband and I have three adult children — one son, two daughters, aged 29, 25, and 22 — who are also currently based in the UK.
Career
I've had a varied career, having worked in publishing and television/film as well as in teaching. In the early 1980s, in Washington DC, I was the Research Director for Larry King's first TV show. I later joined the National Geographic Magazine, as a researcher and writer. For many years I  taught English as a foreign language to adults and was a freelance editor for one of Zurich's top law firms.
Writing
Stop Smelling My Rose!
The commentaries that I have written and broadcast for National Public Radio's
All Things Considered are in my collection of essays "Stop Smelling My Rose!" newly available in Kindle edition from Amazon.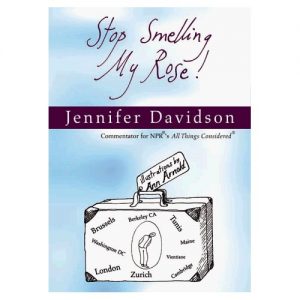 Virtual Fidelity
I have also written a  novel, Virtual Fidelity, available in paperback and Kindle editions from Amazon.