Anika: "I have never laughed so much"
"I sought out Jennifer to help me resolve some stomach issues that several different doctors have failed to diagnose or treat. I had the feeling that it wasn't a purely physical problem and so I wanted to try RTT to see if I could uncover something. I was drawn to Jennifer originally because her friendly and light personality in her videos resonated with me. And I am so glad I followed my gut! I really enjoyed working with Jennifer. I loved that she used a combination of many different modalities, including RTT, EFT, and logosynthesis, including many things that I am still able to do on my own. While the RTT did help uncover a lot, Jennifer's incredibly empathy and ability to judge human nature let her get to the very root of thoughts and beliefs so that we could address them and release them. So, not only was my work with Jennifer remarkably effective, it was also really fun. I have never laughed so much while addressing some really tough issues."
From Anika, September 2017.
Following a single RTT session on self-sabotage:
Dear Jennifer,
This email is just to say a big thank you for yesterday's session.
After the session, I feel so light as if a burden has got off my shoulders. I also feel incredibly at peace with myself for some reason and just happy. Yesternight, I just woke up at 2am and started crying tears of joy and happiness, I felt such a sense of relief.
So just a small email to say a big thank you to you. I shall soon be contacting you for an EFT/Tapping session. Just need to talk to my husband and try convince him to come with me too.
From KT, November 2017.
Kerri: Eating Issues
"Dear Jennifer: I can't even begin to explain the changes I have experienced since our session.
Firstly, I have not binged nor had the urge to binge since. I have found myself picking nutritious foods for my body (with the odd treat still of course!) purely on auto-pilot; it's such a relief.
I have also really changed my perspective. I am still helping people but not to the point of exhaustion anymore, I am asking people to meet me halfway instead of overexerting myself all the time and it's making such a huge difference to my confidence—I feel so free and true to myself.
Still tapping on my addiction to fizzy drinks but it's working and I am more and more drawn to water instead these days.
I can never thank you enough for the tool you have given me — after 3 years of battling, I finally feel like I have a way back to me.
It has honestly been life changing since I stepped off your beautiful boat. Lots of gratitude, love and light to you and BearBear xxx"
Note: BearBear is my sweet, strangely intuitive little dog! JD
From Kerri, after a single two-hour session on my boat in May 2016.
"Beautiful voice"
"Dear Jennifer: Thank you for the recording. First let me congratulate you. You have a beautiful voice that I just want to listen to. I believe everything you say: your voice is inspiring, convincing and for me just the right tone."Sarah R.
"After just one session…."
"Jennifer helped me make big steps in my life after just one session of tapping and hypnosis. I have struggled with committing to work on things I need to do to move into a new phase of my life, as a result of fearing success and needing validation for everything. A few days after our session, I started working on my website and finished my home page, which up until then had been impossible for me to even sit down and start on. I feel more empowered about my future and my actions are beginning to reflect that. Jennifer has a calming and non-judgmental approach which I believe really enabled me to connect with my subconscious and gain the insight I needed to accept positive changes into my life. I am listening to the recording she made me every day, and I love it!"Michelle Ingrosso.
Hypnosis and tapping session for motivation
"Thank you so much for today. I feel so calm and positive about everything and like I can handle things in a new way. I really feel like this will really shift things for the better in my life. I can't thank you enough!"Olly T.
Jasmine: Eating Issues
"After suffering from disordered eating for nearly a decade I saw Jennifer for some hypnotherapy to target my behaviours. Jennifer hypnotised me on her boat and made a recording for me to listen to for 21 days after our first session. Her recording was tailored to my needs. For the first time in 8 years I have a calmness and ease around food. I can feel how my relaxed new approach is slowly changing my habits and I'm beginning to enjoy my life more. Jennifer creates a cozy and serene environment for her sessions and you leave feeling fortified and uplifted. I'd recommend her to anyone in a heartbeat, especially if you've struggled with food and eating."
Jasmine, age 26
Michele: Grief / Relationship Issues
"Dear Jennifer: In 90 minutes you helped me to shift so much pain and emotion it was incredible. I know that had I not had the good fortune to find you on the internet and get an appointment with you this week I would have been stuck in pain for so much longer. You helped me to get to the core of so many emotions I was feeling. I left your house feeling so much lighter and so much more in control of my emotions and my future.
I would encourage anyone who is going through any kind of emotional turmoil or trying to solve a problem to make an appointment with Jennifer immediately it will save you months of therapy and she will give you the tools you need to deal with your emotions as and when they come up. Jennifer you are a kind, compassionate person with a real gift for this type of therapy. I am so glad I found you in Zurich and I will recommend you to everyone I know."

And, a while later:
"You helped me so much and the work I did with you continues to help me. Things are going great. My husband and I have been working through our problems and now feel closer than ever before. Coming to you was a real turning point in my life. I was completely stuck in grief until I did the tapping with you. You are very good at what you do and you deserve to have many people come to you.
Michele B.
Finding Core Issues
"Jennifer is a brilliant EFT practitioner who shows great understanding and care. The session I had with her blew me away; she knew so little about me, but was able to hone in immediately on the core issues, with a deftness of touch that was quite incredible. Jennifer is a total natural at EFT—an intuitive and highly intelligent individual who will not shy away from dealing with the issues in hand, but approaches them with great care and gentleness to gain the most miraculous results. I would not hesitate to recommend her to anyone who is interested in trying out EFT for themselves—she is a gift!"
John: Anxiety and Depression
"Jennifer takes EFT and adds her creativity, insight, compassion, and a lovely sense of humour. Using her uncanny intuition and intelligence, she will "hold your hand," make you feel secure and, in my case, create a wonderful secret garden for you to inhabit. I had almost given up hope of ever being free from crippling anxiety and depression. After only four sessions, I now look at life and at myself in a completely different light, with a sense of freedom, legitimacy and self-respect never before experienced. Of all the therapies I've had, I can't remember enjoying any therapy as much as this."
John D., in his 50s, had four phone sessions.
Video Testimonial: Releasing Lifelong Issues
After a subsequent session, I was pleased to receive this email:
"Many thanks for the work we did today. You are so insightful and talented in getting to what's at the root of things. It was hard, but I think you really unlocked something I've been struggling with all—I repeat all—of my life. Wow."
M.P. has had sessions internationally by phone and Skype
Stefania: Birthday Treat Tapping Session
"Good morning Jennifer: It was great seeing you after such a long time and on your beautiful boat! You haven't changed at all since I first met you at the American Women's Club in Zurich on my first EFT workshop! … and many years have passed! My tapping session with you was very very helpful. I am using some tips you gave me: I am tapping on my fingers when I am on the phone with my mother and it also helps when I am talking with my daughters. I am much "lighter" after these calls 🙂
I keep working on it and I am doing all sorts of exercises to keep the energy flowing. I have to learn to be constant and just reserve 15 minutes for myself every day! Luigi took this lovely picture that I'd like to share with you.Sending you warm hugs from Rome and thank you again for being flexible to accommodate me!  Stefania A. (her husband surprised her with a birthday tapping session)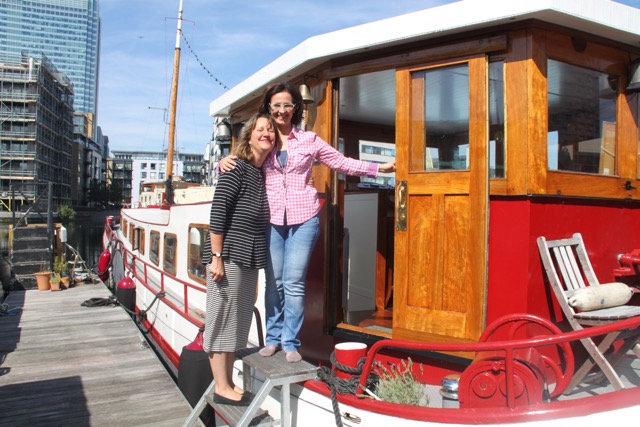 "Huge Shift" After One Phone Session
"Just to say a huge thank you for today. I don't know how you do it but even from one session I can feel huge shift. Thank you for being so 'bang on', insightful and funny!"

One day later:
"I thought I would give you an update. The tapping has had a huge effect. On Friday I instantly felt a lot calmer, less stressed and more purposeful. I can't quite believe how much things have shifted after one session."
Barbara: Blocked Artist
"Our last session had a profound impact on my entire being, I am finally calm about my family and who they are. It is nothing short of a miracle, and you made it happen! You have helped me build so many bridges over the broken places in my life… I am so grateful for not only the tapping but your ability to listen and be a wonderful therapist."
Barbara Z
BK: Challenging Social Situation
"Dearest Jennifer
I am so, so grateful to you! Thank you so much for your fantastic help getting me through this weekend. Everything went just fine, and I felt secure at all times. Only one little incident made me afraid I might get "shaken up" again, but then I had the means to make the insecurity go away immediately. I could never have done this without you!
Thank you. Best wishes. BK

Hilary: Work, Life Changes, New Decisions
"During a period when a series of major life changes came all at once, I was lucky enough to have an EFT session with Jennifer. Lucky really is the right word. Just being in her presence is already reassuring. As she leads you through kindly and gently through the Emotional Freedom Techniques process, you are taken to an oasis of calm and tranquillity.
It's a privilege to have worked with her and I would definitely recommend her."
Hilary Frazer
Christina: Letting Go of the Past
"As an EFT practitioner myself, I had high expectations of the session with Jennifer—and they were surpassed in no small degree. I experienced Jennifer not only as knowledgeable and very skilled, but also as accepting, empathetic and non-judgmental. She doesn't miss a beat. And, when appropriate, she's very funny and tongue-in-cheek. We had some very good laughs together.

I felt understood, accepted, appreciated and very safe and was able to address and let go of "stuff" that had been lying dormant for a long time. I am very grateful to be able to work with Jennifer."
Christina Hurst-Prager, Craniosacral Therapist and EFT Practitioner, Kusnacht
Vicki: Health Issues
"I found Jennifer after a search on Gary Craig's website – I knew a bit about tapping, but was having problems getting to the root of my issues. I went to see her about my permanently bloated stomach, secretly suspecting that it was hiding a whole heap of 'things' I could not reach on my own. Through my sessions with Jennifer I feel I've been cleansing away issues that I've been carrying around with me, and that have affected my health, for years. She is incredibly intuitive and deals with all issues in gentle but effective manner. Even after only a couple of sessions I feel much happier and healthier than I feel I would have done with a lifetime of therapy ….. and my bloating has gone as well! I'm lucky to have found her.
Vicki W. 
Betty: A Fellow EFT Practitioner in the US
"Dear Jennifer,
Thanks so much for the session today. I got a lot out of it. You have a wonderful style and are very good with language and with reframes and seeing the bigger picture. You did a great job with me — and I can be difficult!
I really appreciated the way you flowed with me when I needed to clarify or volunteer some words that felt more on target for me. It's great when there's a sense of being a healing team, working together gracefully like that.
Thanks for all your help today. I enjoyed the session and will recommend you highly!"
Betty Moore-Hafter
Relief from a Decade of Persistent Headaches
"It never crossed my mind that I might be able to bust a problem that had lasted 10 years, since the age of 11. Being completely free of headaches has been incredibly elating, and accompanied by the very best kind of side-effects: I feel energetic, in control, and ridiculously positive.

In phone sessions, Jennifer's attention to my language means that her words are unfailingly spot on, chosen with a total sensitivity that doesn't preclude humour. These sessions always end with me feeling like I've just done three hours of yoga, or been on a month-long holiday. The phrase "life-changing" is painfully hackneyed, but this is perhaps one instance when it's justified. EFT and Jennifer's incredible skill and intuition in employing it have made me feel equipped to deal with just about anything that might come my way."
H. B-H

79-Year-Old Ted: "Wobbly Legs"
"Jennifer first showed me EFT in her garden, on a day when my legs felt weak and wobbly, like wet noodles. After a couple of minutes of tapping, to my amazement, they felt rock solid and I walked round the garden twice. I've since successfully used EFT, with Jennifer's help, on my eyesight and assorted aches and pains, not to mention feelings of frustration connected with ageing."Ted Christopher

"It Doesn't Matter How…It Worked!"
"Somehow Jennifer could read me and my emotional state and unlocked what was lurking underneath the surface…I left drained of energy and tears, but on the way home I drove with open windows and the radio on. Was that me really singing along? Surely that wasn't the beginning of a smile on my face?

The next morning I woke and everything seemed clearer. The issues really had been dealt with. I no longer felt any (negative) emotional attachment to those issues that had previously been preoccupying my mind. Maybe it was time for me to let go of them. Maybe it was my belief that tapping could work. Maybe anything. It doesn't matter, it worked! I can honestly say those tapped away issues have not returned. That burden has been lifted, forever.

So what now? Well, I am working my way though a list of simple and more complex issues. Some small worries that help me deal with situations on a daily level —you know, can I pluck up the courage to venture into a bar alone? Should I speak up at a meeting? The bigger creases in my life are also being ironed out. Stuff like learning really not to care what others think, taking that first step when it comes to networking a crowd and letting go of resentment. The result is that I am a happier person. I think I am radiating happiness and attracting others. I am content in the knowledge that I have a tool to use to deal with superficial and deep emotions, as well as sorting out physical pain. Yes, it works on headaches too. (Best not tell the pharmaceutical firms or they'll take their own sort of preventative action!)"

"A Miracle Worker"

"I am not new to EFT, but I found Jennifer's approach to the system fresh and lively. I especially responded to her wonderful sense of humour. Two months on, problems are quietly resolving themselves without my needing to focus too hard on them. Or perhaps it is my perspective that has changed… Jennifer was described to me as a miracle worker, and I think this is probably right! I have certainly never felt so comfortable speaking to somebody over the phone who I had never met before."University Student, after one session

School Issues: A 14-Year-Old Student

"Hi Jennifer!
After our last appointment things have been going rather well in school! I am already very happy with the changes and the results of the tapping we did!"
Thank you!
Sara A.

Self-Hatred, Eating Disorder:

"My history is one of drug addiction, destructive, abusive relationships and an eating disorder. I went into EFT beaten and desperate and pretty doubtful of its effectiveness after previous disappointing experiences with other therapies….The major shift has been how I perceive my body and myself. My self-hatred has gone, and acceptance and compassion have taken its place.
My life has improved immeasurably since beginning tapping with Jennifer (who I've never met in person; all our work has been by phone). When I first started sessions with her I could barely get myself outdoors and out of the food. Today my life feels fuller and freer than ever as the food becomes less significant, and I continue along this journey of discovery to find the real me and rebuild my life. I have found an amazing tool for life that has the power to eradicate fears and dismantle unhelpful feelings connected with events which once held me back." S. S.

Eliane: Fear of Flying Resolved In One Session

"Until recently, I never would have dreamed of being able to get on a plane without being extremely scared. With the help of of EFT I have learned not only to accept flying, but also to look out of the window and actually enjoy it!
I find it amazing that EFT can be used in so many situations: it gives me a baseline of safety and takes away the fear of not being able to do anything about a problem. As a result I feel both more relaxed and much braver."
Eliane L., a 19-year-old student
Computer Games Addiction: 15-Year-Old Schoolboy
"When I started work with Jennifer, I played computer games (Halo, Age Mythology etc.) every weekday, and three or four hours at least at weekends. I could hardly imagine playing less, certainly not giving them up. Now, a couple of months later, I have completely stopped: I find them boring. And I have more time for hobbies (playing piano) and sports." Fabio G.
Jennifer's Youngest Daughter (then age 13)
"Tapping has really helped me when I was either frustrated or sad or tired. I used to get really annoyed when I had problems with school or football. I used to think I wasn't good enough. But now I just think I am who I am." Lucy Spencer-Davidson
…and from people who've attended workshops:
One wet Saturday London morning I braved the weather to attend a one-day workshop of tapping with Jennifer, recommended to me by a friend. The said friend is grounded and balanced and the most unlikely person to rave about this curious technique so I reasoned there must be something in it. And there is. The workshop was an excellent balance of theory, story telling and practical activities and at the end of the day I had learned the basic tapping sequence and had an appreciation of the power of EFT as an aid to resolution of emotional imbalances in oneself (and we all have them from time to time) and others (invaluable for those who work with others in any aspect of personal development). A thoroughly enjoyable and worthwhile day.
Mandy Muckalt, Development Consultant, London – www.rootsforsuccess.com
Thanks so much for a wonderful day on Sunday. (I have to tell you that I'm normally terrified of groups of strangers but I felt really safe and relaxed.) It was interesting, fun, encouraging, informative, very practical, and very energising. I bravely told my husband about it all when I got back (he is generally very wary of anything 'alternative') and he would love to come to your next introductory course!
Alix Henley, Basel.
A very informative and interesting day! We learned a lot in a very short space of time. What I like the most is the fact that after only one day one is well equipped to use EFT independently. The size of the group was perfect, the atmosphere relaxed and open. Jennifer was extremely well prepared and introduced EFT to us in a highly professional and enjoyable way. The balance between the theoretical and the practical was also excellent. I will definitely recommend this workshop to others.
Stefanie Huser (translated from German)