Normally when I'm tapping, I like to use all nine key points and proceed in a leisurely manner. Sometimes, however, time or space are tight, and tapping on just one point can feel like a lifesaver. This was the case for me a couple of weeks ago.
I had the pleasure, along with my fellow Holistic London practitioners, of manning our booth at the Mind Body Spirit Festival at Olympia. We were offering a free raffle and lots of information, and had a high level of footfall. It wasn't the easiest time for me, however, as just days before my much-loved mother-in-law Joy had passed away, and my thoughts were with her and on her upcoming funeral, which I was helping my husband organize. (The photo below is me putting a brave face on it…)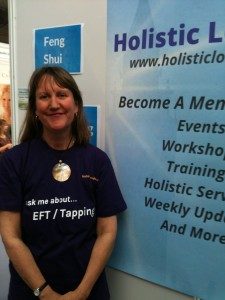 At times it felt overwhelming to be juggling raffle-tickets and chatting with punters, while simultaneously thinking of Joy, suppressing tears, and panicking about the funeral tribute I wanted to write—and get just right—which was due to be delivered in a matter of days. When overwhelm loomed, luckily I had a quick and instant solution at my fingertips: the collarbone tapping point (just under the collarbone, where you would clap your hand to your heart if you had a sudden shock). Gently tapping on this point firmly and repeatedly is one of the quickest ways I know to get yourself calm and back into the present, and I used it repeatedly over those four days of the exhibition, sometimes stepping away briefly, sometimes just doing it discreetly on the spot, with clipboard in hand.
On the afternoon of the last day, there was a slight lull, and I stepped over to chat to a young woman at an adjoining stand, with whom I'd been exchanging smiles over the four days. While I was looking at her product (really great hairclips!) she asked how things had gone at for us at our booth: I said very well, and told her about my mother-in-law. She was very sympathetic, and said she too had just lost a family member. I was shocked to discover that (in stark contrast to Joy, who was 95) this was a young cousin, age 19, who had taken his own life. Her eyes welled up as she told me, and without thinking, I said "do this" and showed her how to tap with two fingers on her collarbone point. We stood together, tapping. It was a lovely moment of connection. After a bit, she nodded and said "it's good, that, it works." Her colleague came along and tried it too. Then we all went back to work.
If you have a shock or a moment of overwhelm, you may well instinctively clap a hand to your heart. My suggestion to you is to try tapping the point as well.